"We are fortunate to entrust our instruments to his care"
- Dr. Tracey Laird, Agnes Scott College Music Chair

"I highly recommend Haasenritter Piano Service"
- Geary Brogden, Minister of Music, Ramah Baptist Church

"My Baldwin piano sounds great, never sounded this good since the day I bought it."
- Karen Douglassville, GA.

"Sam Haasenritter is an attentive piano technician who always provides exemplary service"
- David D'Ambrosio, M.M. the Juilliard School, Director of Piano Studies, Agnes Scott College

"I was not prepared for just how great this marvelous instrument could sound until Sam"
- Arthur G. Schoeck

"I trust his opinion and his skill completely."
- Gina G. Manley

"Sam truly keeps my piano in top shape for practice and performance."
- Betty S. Smith, Professor Emerita of Music, University of West Georgia

"Needless to say, my expectations were great and Sam has not disappointed."
- Laurie S.

"Sam Haasenritter listens to my needs, and is so skilled that he can produce what I want everytime."
- Shirley Irek – 1st recipient of the Van Cliburn Scholarship to Julliard
Never use a tuner for your piano!
Are you aware that there is a significant difference between a piano tuner and a piano technician?  A piano tuner only tunes.  A piano technician, on the other hand, can tune, repair and service the other components of the piano (see Piano Tuning & Service).  A good example is the difference between mechanics that only change the oil and others that change the oil, perform a 60,000 mile serice, change the brakes, make repairs, etc.
Did you know that there are no certification exams a person must pass to be able to begin servicing pianos?  Just like a person can work on cars without having ASE certification, all that is necessary to be a piano tuner is to purchase a tuning hammer and print business cards.  That's it!
So how do you find a quality piano technician?  Often, a friend will happily give you the name of their piano tuner.  But, ask yourself this – Does your friend know to rely on a piano technician, instead of a piano tuner.  And, if he or she recommends a piano technician, is your friend really qualified to know if the person servicing their piano is good?  Another source of referrals are professional musicians and  music ministers.  While they have a better ear than non-musician friends, their music training does not consist of evaluating the quality of a piano technician.  Piano teachers are the most common resource to ask as it is assumed that, as pianists, they know when a piano sounds great.  However, if you were to ask a local piano teacher what part of their collegiate training consisted of evaluating the skill of a piano technician in servicing the 3 areas of piano maintenance (tuning, touch and tone), you would be surprised to discover that there is little to no education in this area – a problem that I seek to remedy through the t³ Piano Institute! 
The best way to begin searching for a qualified piano technician is by accessing the Piano Technicians Guild (PTG) website.  The Piano Technicians Guild, the official organization of the Registered Piano Technician (RPT),  is the world's premiere source of expertise in piano service and technology.  The mission of PTG is to promote the highest possible standards of piano service by providing members with opportunities for professional development, by recognizing technical competence through examinations and by advancing the interests of its members.  Although anyone may join PTG, only those that have passed a grueling series of tests at a minimum of 80% attain the Registered Piano Technician classification.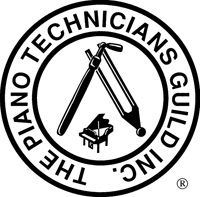 The Registered Piano Technician credential (shown to the right) certifies that the piano technician is ready to handle normal piano tuning, service, and repair.  Unlike the exams of other trades, such as a mechanic's ASE certification, a written exam is only the beginning.  To attain Registered Piano Technician status, one must additionally pass 2 standardized tests that actually evaluate one's skill and is judged by a jury of other Registered Piano Technician's.  To find out more about the Registered Piano Technician designation, click here. 
Sam Haasenritter, RPT, is a Registered Piano Technician with the Piano Technicians Guild.  Click here for a brief bio of Sam's experience and training.  Coverage area includes the Greater Atlanta area, Fayetteville, Senoia, Sharpsburg, Tyrone, Peachtree City, Newnan, Palmetto, Fairburn, Douglasville and Carrollton.   Under special circumstances, I will travel outside of my usual coverage area.  However, if you are in need of a qualified piano technician in another area, feel free to call me for a referral or search the PTG website for a RPT near you.